A sample chapter
From the book Science and Technology in Medicine – An illustrated account based on ninety-nine landmark publications from five centuries

by Andras Gedeon

DOWNLOAD THE SAMPLE CHAPTER IN PDF FORMAT


From chapter 67 – Wilhelm Conrad Röntgen

Ueber eine neue Art von Strahlen.
Sitzungb d Würzburger Physik-Med Ges Jahrg 1895. p132.
Würzburg: Verlag der Stahel'schen Buchhandlung; 1896

Röntgen announces his discovery of an unknown radiation "X-Strahlen" emanating from a cathode ray tube covered with black paper. He finds that the ray penetrates easily many materials, including aluminium, but not a 1.5-mm thick lead plate. He is unable to reflect, refract or diffract the radiation, nor can he produce interference phenomena or deflection with electrical fields. He notes that X-rays always emanate at the glass wall where the tube is struck by the cathode ray. Finally, he observes that the radiation blackens photographic plates and uses this to document his experiments and to produce "shadows of handbones".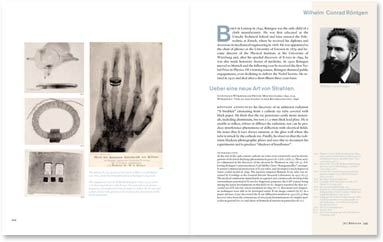 CAPTIONS
The famous X-ray picture of the hand of Albert von Köllicker, from the first publication of Röntgen's discovery.

The equipment used by Wilhelm Röntgen (1845–1923) in his very first experiments with X-rays. Vacuum tubes, an electromagnetic coil employed in his attempts to deflect the X-rays and a plate of lead with apertures for studying the absorption of different materials.